Why You'd Be Crazy To Miss This One-Day Workshop
HERE'S WHAT YOU'LL LEARN 
How to increase occupancy – Get distinct market advantage to stand out from the crowd – Enhance all quality areas of NQS
And get people talking about your centre!
STILL NOT CONVINCED?
In this 5-hour executive session for Owners and Directors, you will discover how the right Professional Development Program can help you to boost your centre's occupancy, stand out from the crowd, motivate your staff, improve all areas of the National Quality Standard and engage parents.
You will have a rare opportunity to see the Award-Winning Music Kinder in Action to gain a variety of strategies and inspirations.
Discover How to Attract New Families and Boost Occupancy, Motivate Educators, Enhance NQS Rating and Give Your Centre a Key Point of Difference in the Marketplace.
Claim your FREE ticket today, limited places!
EVENT: Music Kinder in Action
WHEN: Friday 20 October 2017, 9am – 2pm
WHERE: Bonkers Beat Music Kinder Aspendale, Melbourne
You're not alone in struggling with daily problems…
Most Owners, Directors and Educational Leaders are facing the same challenges as you:-
  High competition and for some of you, low occupancy
 Keeping educators' levels of motivation and interest high
  Boosting NQS Rating
  Low confidence in educators and poor skills
 Lack of quality and consistency of educational programs across the centre
 Limited parent involvement and participation
  Inconsistency between your centre's philosophy and home life
 Lack of staff engagement and little interaction between educators and children
What you need is an Educational program that will: – Give your centre a competitive advantage – Boost your occupancy – Improve educators' skills through in-house training for the entire team – Provide ongoing guidance, support and a comprehensive and easy-to-use range of educational resources – IMMEDIATE implementation of learnt approaches and skills And those are just the benefits for your centre
EXCLUSIVELY FOR – Educational Leaders, Directors and Owners of Childcare Centres
CLICK below to claim your free ticket now to discover how you can improve your Centre's occupancy and increase your staff motivation with this Award-Winning Training.
EVENT: Music Kinder in Action
WHEN: Friday 20 October 2017, 9am – 2pm
WHERE:  Bonkers Beat Music Kinder Aspendale, Melbourne
Award Winning Educator & Trainer

Galina Zenin (B. Mus. Ed., Dip. Teach.) is an early childhood consultant, presenter, inspirational speaker, educator, qualified and highly respected music and voice training teacher, author, composer and storyteller. Galina writes her own music and brings to her music program a wealth of European and Australian experience and a high level of professionalism.
Galina is a creator of two Award-winning innovative early childhood education programs and a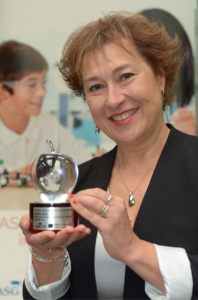 recipient of the 2015 National Excellence in Teaching Award by Australian Scholarships Group (ASG).
In 2006 Galina founded Australia's first music kinder – Bonkers Beat® Music Kinder in Brighton East, Victoria which was selected for the E4Kids study conducted by The University of Melbourne in partnership with the Department of Education and Early Childhood Development (DEECD), Victoria. In 2010 the Bonkers Beat Music Kinder & Childcare Aspendale (Victoria) was selected as a pilot centre for the National Quality Standard and in 2012 and 2016 achieved the Exceeding National Quality Standard ratings.

Galina has established herself as one of Australia's most innovative Early Childhood Educators and has presented at a number of conferences in Australia, New Zealand, Singapore, Indonesia, Japan and the United States.
Want to hear from other Owners?
Want to hear what parents say?
" Very inspiring…I will be using the ideas at home" – Vicky De Gleyne
"Lots of energy! My girls love Bonkers. Great to see firsthand some of the mindfulness they are learning!" – Michael Skilton (Steph & Lucy)
"The practical and experiential aspects. Getting more insight to what my child is doing each day at childcare." – Nicole Ferrar (Cleo)
"Galina is an inspiration. Her love and dedication to children's education are extremely evident." – Olivia Knox (Ava)
"Connecting with what my child is doing at kindy – learning more what I can do at home" – Erin (Grace)
"The music and activities that my son is learning from the educators" – Ben Goth (Anders)
"Your amazing energy, enthusiasm and passion!" – Sam Stuart (Olivia)
"Understanding the program and how to apply at home" – Katherine McConnell (Ella)
"I really was interested in learning about how technology impacts our children" – Vanessa
Publications & Media Galina has been featured on Channel 9 Today Show, Disney Australia & NZ, Radio stations 89.9 Light FM, 3ZZZ & SBS.   

Her articles have been published throughout Australia and New Zealand, including 'Swings & Roundabouts', 'The Monthly Crier' and 'Early Edition'. She was also featured in Melbourne's Child, Business Mums Magazine, Bayside, Kingston, Mordialloc, Chelsea and Frankston Leader Newspapers.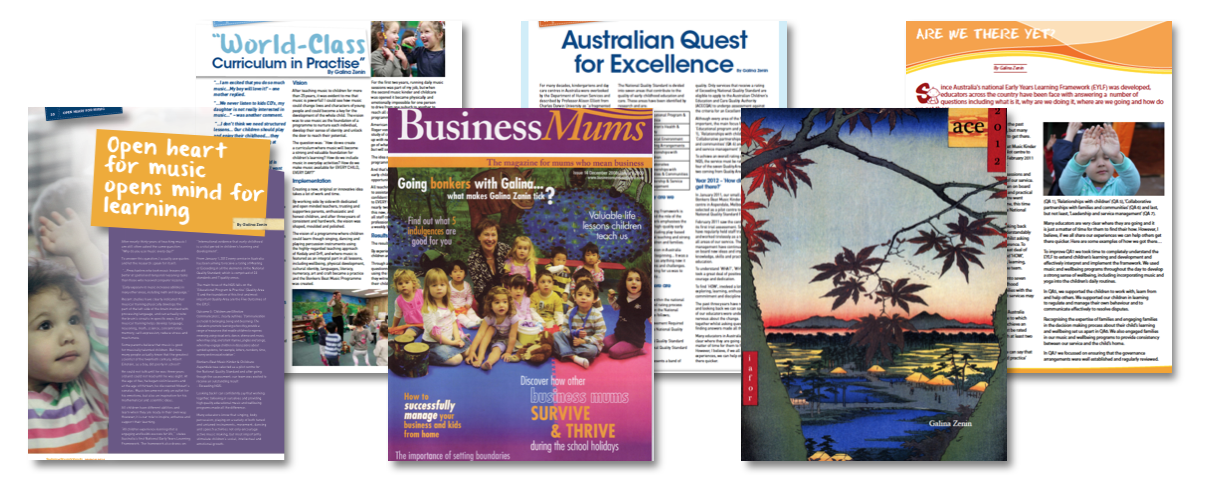 Galina studied and is part of the Alumni at The Gnesins Russian Academy of Music and the Ippolitov-Ivanov College of Music in Moscow, Russia. Galina has links with both the Australian National Council of Orff Schulwerk (ANCOS) and Kodály Music Education Institute of Australia (KMEIA).
Bonkers Beat is Affiliated with the Following Organisations:

Music Kinder in Action Event is proudly brought to you by:

Phone: 13000-B-BEAT (1300 022 328) Email: info@bonkersbeat.com